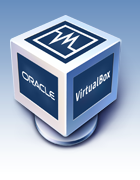 Update!! 2008-04-27


Today I am going to post about VirtualBox, a virtualization product like VMWare or VirtualPC, but this one is plublished under GPL licence and is open source.

Currently, VirtualBox runs on Windows, Linux, MacOSX and OpenSolaris, and supports guests virtual machines such as Windows (XP, Vista, 2000...) Linux (Ubuntu, Debian, OpenSUSE, Mandriva... with kernel 2.4 y 2.6) and OpenBSD.

More official info: Innotek VirtualBox

I am going to do a tutorial series about virtualization with VirtualBox. I will be explaining what I am experimenting. The tutorials will be:

Installation and configuration of VirtualBox.



Ubuntu JEOS virtual machine Installation.




Other tutorials, about application I will be trying in virtual machines.

So let's get started:
In this case I am using VirtualBox on Ubuntu Hardy 8.04 (Development branch, but damn stable!). One of the advantages os using Ubuntu is that VirtualBox is in the official repositories, and we just have to activate Universe and Multiverse repositories to install it
[1]
[2]
.
If you want to install VirtualBox, read more!

First, to isntall it we do the following:

sudo apt-get install virtualbox-ose virtualbox-ose-modules-generic

If you are using another kernel (such us -rt), install de module to the corresponding version. To see what kernel flavour you are running:

uname -r

Once you have done it, in order to use VirtualBox, your user will have to belong to

vboxusers

group.

sudo useradd -G vboxusers -a

tu_usuario



And also we have to modprobe the module for virtualbox:

sudo modprobe vboxdrv

So far, we are able to run VirtualBox to install our favourite Operating System.

In the next issue, I will explain how to install Ubuntu JEOS, a reduced version of Ubuntu for virtualization, in a virtual machine.